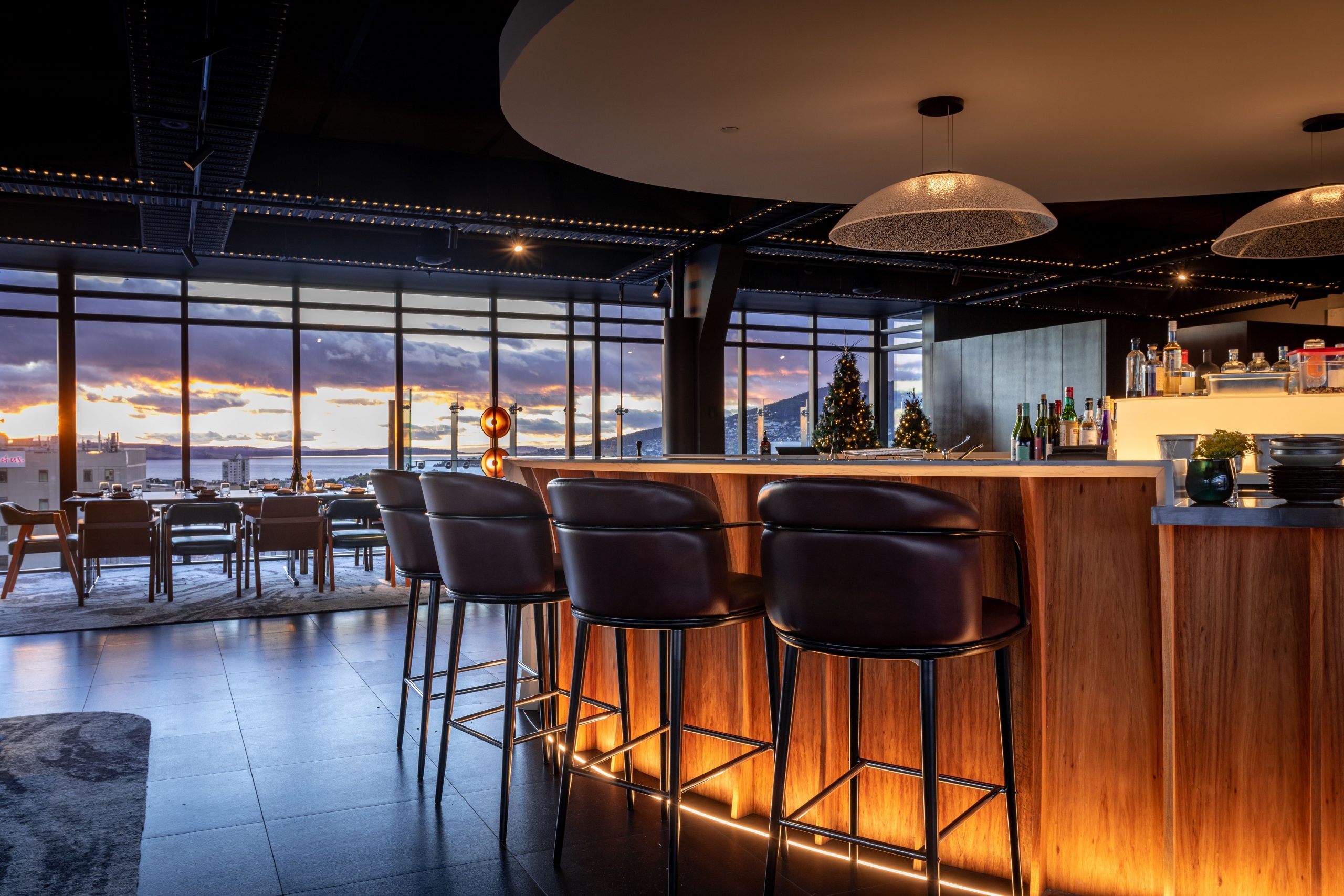 EAT WITH US
A statement in contemporary design, thoughtful planning has culminated in a designated event space with bar and rooftop terrace, offering flexibility for day delegates, meetings and private dining and cocktail events.
For larger functions, the event space and restaurant can be opened into one generously proportioned 400sqm venue with sleek central bar, for the exclusive use of up to 200 seated guests or 350 for cocktail.
The name Aura was chosen to reflect that the entire venue has been designed to evoke in guests a sense of being enveloped by something special. However, this impressive new hospitality venture spearheaded by local developers and hoteliers Kalis Group could just as fittingly been named Phoenix, with its inception and construction a labour of love for owner and local Hobartian Alexia Kalis, that has literally arisen from the ashes.
In late 2007, fire destroyed the historic Myer department store that once occupied the middle of Hobart's CBD. In one afternoon, the beating heart of Hobart's city was brought to a standstill and for eight years this once bustling block of the retail district was left barren.
Following years of inaction, the land was eventually acquired by Kalis Group. However, not satisfied with just rebuilding Myer, a vision soon transpired between father/daughter management team Emmanual and Alexia Kalis, to introduce an internationally branded hotel to the city with Kalis Group developing a privately owned venture for the rooftop. Marred by red tape, construction delays, flooding and last but not least, a global pandemic, the opening of Aura in 2020 was the final piece in the puzzle for Kalis Group after a decade of incredibly hard work to reinvigorate this prime CBD location.
Stepping out of the lift and walking along the glass entrance corridor framing mountain and city views, it is immediately evident that customer experience is at the fore of every element of Aura. A sophisticated interior with leather and timber accents encourages the eye to wander outwards, with Alexia explaining this minimalist approach to design was a deliberate ploy not to compete with Aura's art – the mesmerising and everchanging harbour, mountain and city vista beyond.
The menu evolves to accommodate the freshest of produce sourced as locally as possible, often directly from the farm gate. Pittwater Oysters, Pirate's Bay Octopus, Littlewood Lamb and Tasmanian cheeses are all a staple. Guests can enjoy the Chef's Menu, graze on tapas plates or snacks, and the kitchen team delights in curating bespoke menus for events.
A wine list comprising first the best of Tasmania… and then the rest of the world, showcases some of the island state's most tightly held secrets, with many small boutique wineries featured. Aura's extensive cocktail list is also creative, incorporating Tasmanian distilled gin, whisky, spirits and botanicals. With partnerships in the pipeline with notable Tasmanian musicians of all genres, the team at Aura understands it takes the sum of all parts to host a truly memorable event.
Whilst the effort to reach the top may have been mighty, with all the key ingredients to create a quintessentially Tasmanian experience, it would seem the wait was undeniably worth it with this pocket of Hobart well and truly finding its new aura.