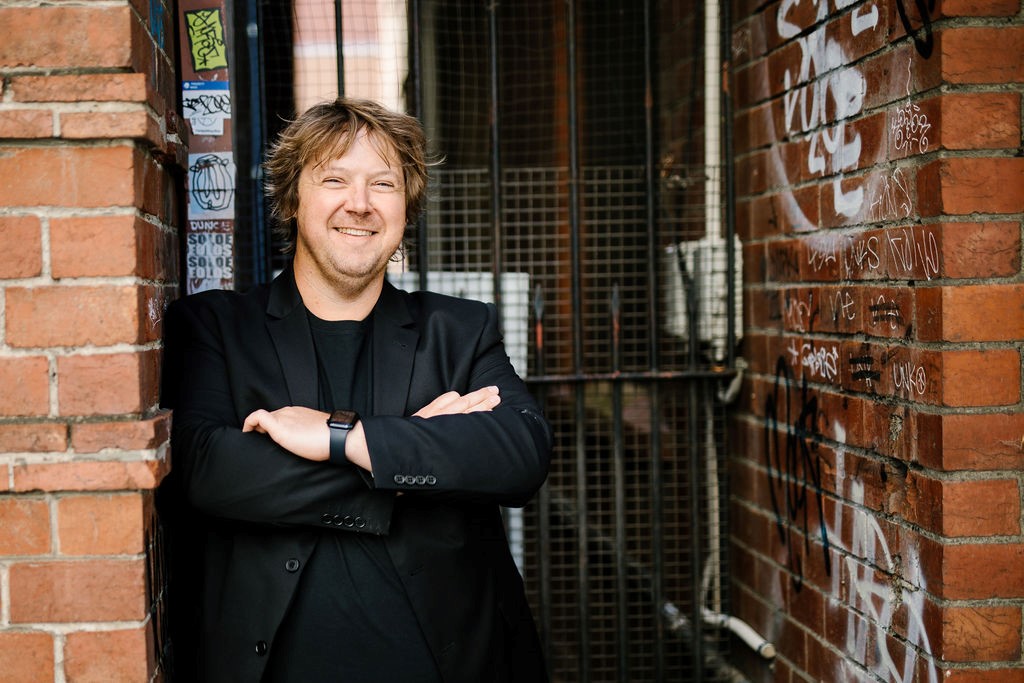 CHAT WITH A LOCAL: Peter Walker
Awarded nationally and internationally for his high-profile tourism project portfolio, Director and Principal Architect of Cumulus, Peter Walker uses design to better understand the world around him.
Known for transforming sensitive heritage sites including Pumphouse Point and The Apple Shed as well as new projects such as Saffire and Devil's Corner, Peter says he does his best work late at night with room to think, fuelled by challenges, feedback and others' ideas earlier in the day… and with the promise of a good single malt close to hand!
I LOVE LIVING IN TASMANIA BECAUSE…
I love the lifestyle here. The Tasmania of today is much more connected to the rest of the world than how it felt growing up. We have the great fortune of being able to live in a city with a thriving design and food culture yet within half an hour of amazing natural landscapes. That connection to place and people was a strong factor in deciding to start our architecture practice here.
TO ME, SUSTAINABILITY MEANS…
having a long term view. For architecture to be sustainable it needs to be enduring which requires not only a responsible approach to the environment but also the historical, cultural and social context in which we work. At its best architecture, also inspires people – adding beauty and wonder to our lives. When things are loved and cherished, they are much more likely to endure.
THE MOST REWARDING PART OF MY ROLE IS…
seeing the difference our projects make to the communities in which we live and work. I have been extremely fortunate to work on projects that have helped define Tasmania as an aspirational tourist destination. At the other end of the spectrum, we get to see people (some of whom have been homeless) interacting and enjoying a space which they can now call home and feeling like they are part of the community again.
AN UNMISSABLE EXPERIENCE I RECOMMEND WHEN VISITING OUR ISLAND STATE IS…
staying at Pumphouse Point. I realise I am a bit biased towards this project, given our role as architects, however even from the first time I visited the site I have considered this place magical. One of the most unforgettable experiences of my life is landing on the mirrored surface of Lake St Clair in the seaplane… this is definitely something I recommend for those who have the opportunity.
ONE THING THAT MIGHT SURPRISE PEOPLE TO LEARN ABOUT TASMANIA IS…
the diversity of landscape and culture within such a small island. Our topography ranges from surf beaches, windswept coastal cliff faces and alpine ranges to dense temperate rainforests, button grass plains and rich farming land, each with its own distinct flora and fauna. In particular, I find it fascinating that within Tasmania there is evidence of our prehistoric connection to Gondwana, the formation of topography through glaciation and Aboriginal management of our landscape.
YOU HAVEN'T EXPERIENCED TASMANIA UNTIL YOU HAVE…
enjoyed a hot spiced winter cider at the winter festival at Willie Smith's. This is a unique festival that embodies much of Tasmania's recent history and the community of the Apple Isle.
MY FAVOURITE TASMANIAN:

COFFEE SPOT
I never acquired a taste for Coffee, but my daughter and I have some preferred Hot Chocolate spots. Jackman & McRoss is one of our favourites.
CHEEKY TIPPLE
Depends what mood I am in. A cider from Preachers on a summer afternoon, an evening cocktail from Glasshouse or a single malt from the great whisky collection at Society in winter.
TASTY TREAT
There is something great about grabbing an Oliebollen from the Salamanca Market on a Saturday morning.
SECRET LOCATION
I am so lucky to have been able to visit so much of the state, however recently I had the opportunity to visit Cape Grim in the north western corner of the state. It is such an impressive experience standing on a site that has such a dark, sad history in the full force of the roaring 40s with the cleanest air in the world.
PLACE TO ENJOY THE GREAT OUTDOORS
There are so many beautiful locations around our state however I always love visiting Cradle Mountain and Dove Lake.