555 Freestone Point Road, Triabunna, Tas, 7190
Conference
Architecturally designed for conference and meeting goers, Spring Bay Mill is a sustainable events venue on the east coast of lutruwita/Tasmania.
Garden-to-plate goodness, state-of-the-art facilities, award-winning accommodation and an intricate landscape yield a backdrop like no other for business events: intimate or spectacular. 
You'll be surrounded by some of the cleanest air Tasmania has to offer with water views that stretch from the portside town of trayapana/Triabunna to wukaluwikiwayna/Maria Island National Park. Previously the world's largest wood chip mill, the site purveys a transcendent stillness that is truly unmatched.
Spring Bay Mill has upcycled industrial past into a versatile range of indoor/outdoor spaces. From the award-winning Banksia Room with stunning sea views, sandstone-paved outdoor fire-pit and adjoining boardroom to the Tin Shed which boasts rustic feels, modern touches and a large open-air deck, Spring Bay Mill offers multi-purpose spaces that are sure to leave an enduring impression.
Meetings, conferences, workshops and retreats. Inspiration is all around you on the east coast of lutruwita/Tasmania.
We welcome all people and their varying access needs.
| Room Name | Theatre pax | Classroom pax | U-Shape pax | Banquet pax | Cabaret pax | Cocktail pax |
| --- | --- | --- | --- | --- | --- | --- |
| Banksia Room | 300 | 140 | 85 | 140 | 70 | 250 |
| The Tin Shed | 250 | 140 | 85 | 140 | 70 | 280 |
| Tin Shed Deck | 100 | 30 | 30 | 50 | 30 | 100 |
| Oil Change Shed | 60 | 50 | 30 | 50 | 30 | 60 |
| The Amphitheatre | 600 | 130 | - | - | 100 | 400 |
| Windlass Deck | 100 | 40 | 20 | 40 | 30 | 100 |
| Sawtooth Terrace | 150 | 60 | 40 | 70 | 35 | 150 |
| Bunker | 60 | 40 | 20 | 40 | 25 | 100 |
| 2022 Awards | Award Category |
| --- | --- |
| Tasmanian Tourism Awards | Business Events - Silver & Positive Impact Tourism - Gold |
| ArchiTeam Awards | ArchiTeam Medal, Sustainability Medal & the Commercial, Community & Public Award |
| Master Builders Tasmania Awards | Renovation/Fit - Out $1 Million - $5 Million Category, New Construction $2 Million - $5 Million Category & Soil & Water Management - Commercial |
| Tasmanian Community Awards | Semi-Finalist in Sustainability Category |
| Tasmanian Architecture Awards | Commercial and Sustainable Architecture |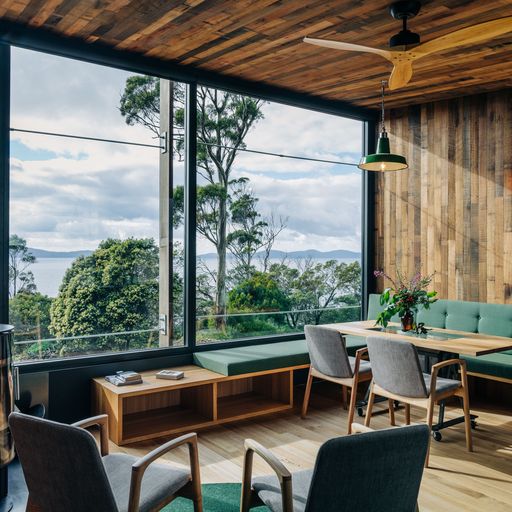 Stay
Sleep well and wake up to bird song in our range of onsite accommodation options which can host up to 118 people onsite.
Adorned by Eucalypt forest and sea breeze from Windlass Bay, our one and two bedroom off-grid beach shacks are ideal accommodation for anyone wanting a bit more space and privacy. Features include kitchenette, wood-burning stove and a private deck with BBQ and an outdoor bath for soaking and star gazing.
The Ridge Quarters offers a row of 12 double or single rooms, each with an adjacent private bathroom, a communal kitchen, lounge and dining/work area, offering stylish and functional accommodation designed for work colleagues or groups travelling together. The adjacent Ridge Suite is self-contained with two double or twin rooms, bathroom, kitchen and a living/dining area. 
Our 32-tent Glamping Field accommodates up to 60 people, double or twin sharing in our spacious 4 and 5m glamping tents. Larger Glamping tents have a seating area and deck. All tents are standing height and are equipped with LED lighting, toiletries and luxury bedding. The communal camp kitchen is fully equipped with BBQs and fridges as well as a sheltered dining area with a firepit. Indoor and outdoor showers and a toilet block complete the shared camp facilities.
Do
Spring Bay Mill believe that the experiences that makes us who they are. Expeditions on land and sea, workshops and demonstrations, guided walks, well-being, cultural experiences and historical tours. Talk to Spring Bay Mill about creating a bespoke itinerary of experiences before, during or after your event.
Story of the Mill
An immersive tour of what was once the world's largest wood chip mill. Follow the path taken by giant eucalypt trees to be processed into wood chips. Learn about the history from destruction of native forests to the present-day story of regenerating and repurposing the mill.
Tree Planting
Plant an ecosystem with our horticulture team and contribute to revegetating the land at Spring Bay Mill. This is a fun and engaging activity where guests can get their hands dirty planting, and learning about the plant species on site, unique to the East Coast of Tasmania.
Glazed and Confused
Use ceramic techniques to create a beautiful handmade vessel. The vessels will be taken back to the Hobart studio for firing and sent directly to participants.
Salt Sommelier Experience 
Dive into the world of salt, with our friends from Tasman Sea Salt. Owners Chris and Alice host a tasting of their uniquely Tasmanian sea salts paired with local ingredients.
Yoga
Experienced local yoga instructors take groups through a relaxation and stretching session. Can be arranged indoors or outdoors depending on the season.
Bush Tucker Tour
Sharing history, heritage and culture of today's palawa/pakana people and their historical connection to the Country around Spring Bay Mill.
Welcome to Country
A Welcome to Country is where an Aboriginal or Torres Strait Islander custodian or elder from the local region welcomes people to their land. This may be done through speech, song, dance or ceremony.
Smoking Ceremony
Following on from the Welcome to Country, a full cleansing and smoking ceremony will set the tone for your event and allow participants to develop a strong connection and appreciation for the land you are meeting on.
Maria Island Half Day & Full Day Tours
Take the ferry to wukuliwikiwina/Maria Island for a guided walk through the former penal settlement of Darlington, exploring the painted cliffs and unique landscape.
Eat & Drink
Working closely with our horticulture team, we create unique, delicious, high-quality dishes using ingredients straight from our onsite organic kitchen gardens. All our menus emphasise seasonal, local ingredients and showcase our garden-to-plate produce. Vegetarian, vegan or omnivore options are all equally mouth-watering. Our drinks packages feature the best local selection for quaffing at your event. Combined with attentive service in an ambient setting that see's conversation flourish and memories savoured.