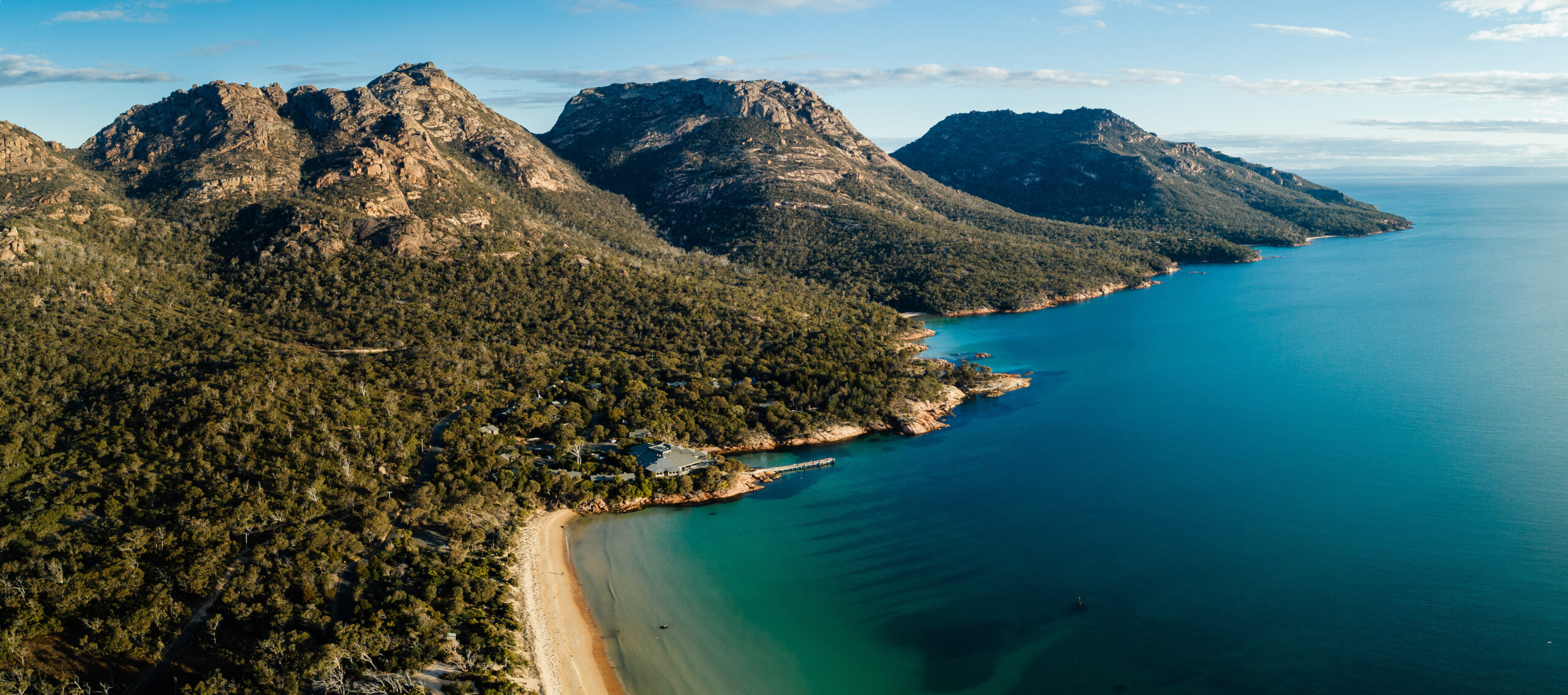 Sleep Outside the Box
With stunning, modern accommodation options, it is THE place to stay on Tasmania's east coast.
Somewhere Special
Looking to take a group somewhere special?
Somewhere really special away from the distractions of the bustling city?  Then head to the Freycinet Peninsula on Tasmania's east coast where the raw natural beauty is sure to re-energise and refresh.
Freycinet is one of Tasmania's most exquisite scenic coastal areas. It's a landscape of abundant beauty with towering pink granite mountains, crystal-clear waters and white sandy beaches. The most popular attraction in the area is Wineglass Bay – a world renowned location that attracts thousands of visitors every year with its clean turquoise waters and pure white sands.
It's a landscape of abundant beauty with towering pink granite mountains, crystal-clear waters and white sandy beaches.
One of Australia's most spectacular eco-lodges Freycinet Lodge is situated in Freycinet National Park and offers the perfect location for your next business event. Whether a high-end incentive group of 10 or a conference for 110 delegates, the Lodge can cater for your group's every need.
An immersive experience
The Lodge boasts new architecturally innovative, waterfront pods and pavilions that are carefully sensitive to environmental sustainability, Aboriginal history and the protection of native flora and fauna. They provide an immersive accommodation experience within Freycinet National Park in a superb blend of natural simplicity and ultimate comfort.
The development was undertaken by a large consultant team led by well-known tourism developer Brett Torossi.
Torossi is considered a visionary and a realist. She has a remarkable reputation of making things happen and she is not afraid to think outside the box. She was one of the first developers in Tasmania to create truly high-end accommodation experiences, including Avalon Coastal Retreat and Rocky Hills Retreat.
Just a few metres from the water's edge the ultra-modern waterfront pods offer luxury and an opportunity for guests to connect more closely with nature. The pods consist of a 'living' pod and 'bed' pod and have been designed to nestle guests gently between the native bush vegetation and the turquoise water of the bay.
The view from inside the pods is amazing. Guests can relax and simply soak in the spectacular filtered water views of Great Oyster Bay. When the sun goes down, they can watch in awe as the night sky arrives in all its sparkling glory…and when it comes to sleeping, they will feel like they are sleeping outside amongst the stars. The experience is a memorable one that will stay with them forever.