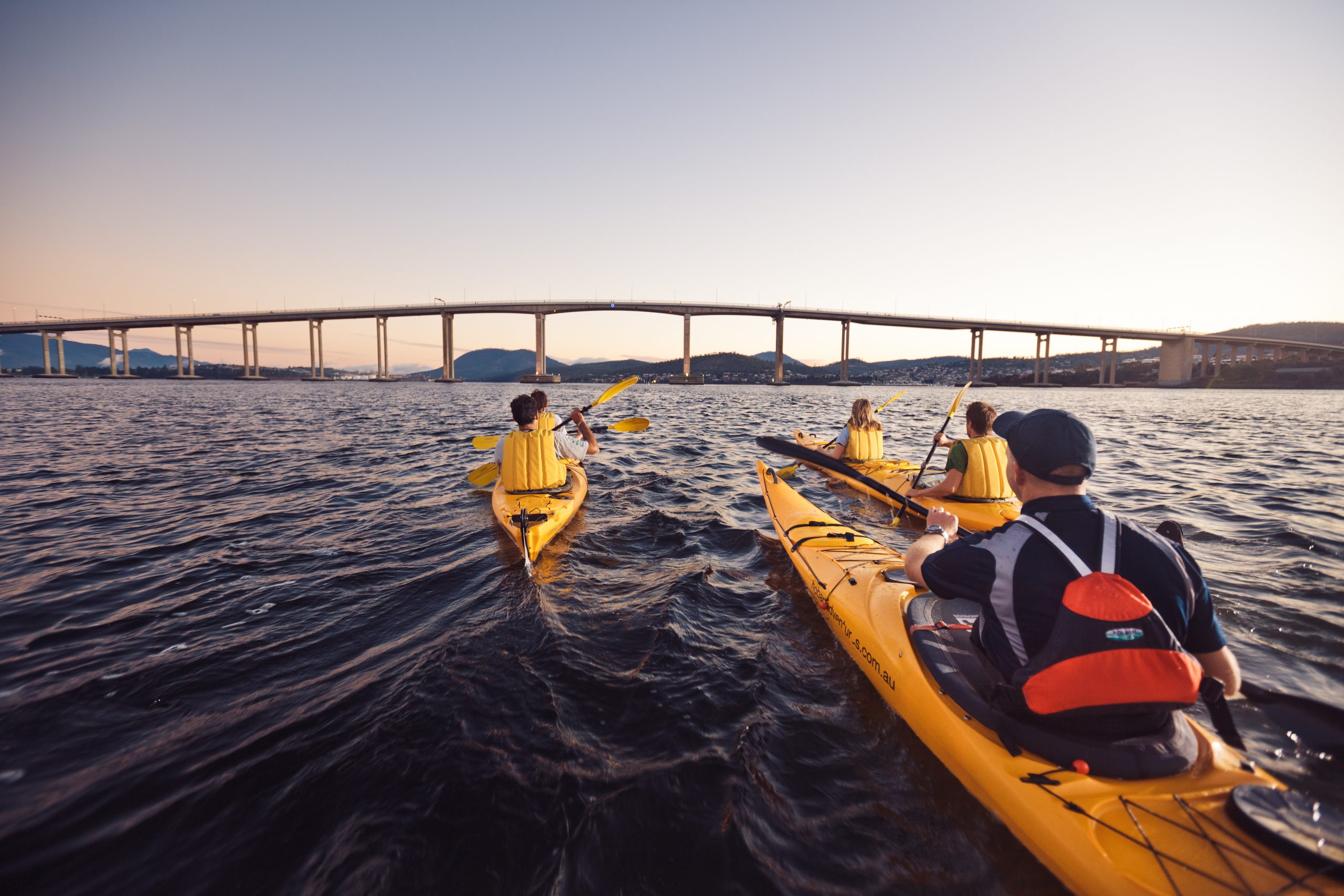 ADVENTURE with us
Adventure has long been synonymous with Tasmania, an island of contrasts sought out by thrill seekers looking to connect with our pristine wilderness.
From the rugged mountain terrain of the unforgiving west coast to the dramatic granite peaks and white sandy beaches of the sunny east coast. The capes of the north west delivering some of the world's cleanest air and the sea cliffs, and big ocean of the south, Tasmania is world-renowned for immersive adventures that reinvigorate and inspire. When it comes to a Tasmanian adventure, nothing beats the thrill or the challenge of human powered adventures. Kayaking, canyoning, rafting, rock climbing, biking, or trekking, the possibilities for getting out of (or into) your comfort zone powered entirely by your own steam are endless. Below we have profiled a small selection on offer in the island state.
ROARING 40S KAYAKING
Established in 1996, Roaring 40s Kayaking is widely regarded as Tasmania's premier sea kayaking operator. With a range of active adventure experiences on offer, the experienced team at Roaring 40s can tailor bespoke trips to suit delegate requirements and timeframes. Roaring 40s cater for everything from a 2.5 hour paddle around Hobart's waterfront taking in the mountain and cityscape, to longer experiences exploring cliffs, caves, and beaches just south of the city. Dedicated professional guides who have grown up on Tasmanian waterways accompany participants on memorable tours of Tasmania's pristine waterways, using high-quality kayaks and equipment. Multi-day/overnight tours are also available for pre-and post-touring options, partner programs and incentive travel, with Roaring 40s operating in a range of locations around the state including the south west wilderness and Flinders Island.
HOLLYBANK WILDERNESS ADVENTURES
Offering unique experiences set amid a pristine pine forest within 20 minutes' drive of Launceston, Hollybank Wilderness Adventures has four world-class adventures under one canopy. An iconic Tasmanian outdoor activity destination loved by thrill seekers and nature lovers alike, the experienced team at Hollybank will have your group leaping, flying, and climbing through the forest, experiencing the outdoors like never before! Glide above the Hollybank Forest on a zipline tour and feel the fresh air breeze past your face as you soar from tree to tree along metres of cable up to 50m above the ground. Continue the thrills with the tree ropes course and clamber around the forest. For those adventurers who would prefer something a little closer to the ground, Hollybank offers Segway and mountain bikes to explore the many nature trails available to guests. Encouraging physical activity away from the everyday, Hollybanks caters to all ages and abilities, with tailored halfday and full-day experiences
available.
Hollybank Wilderness Adventures
WILL SMITH
Proud Tasmanian Will Smith is an experienced leadership facilitator, coach and public speaker offering recreational resilience programs in an outdoor setting. These intense sessions are designed for groups wanting to build mindset and emotional intelligence in individuals whilst working cohesively as a team to empower social management, self-management, and selfawareness. This unique program has been developed by a team of professional instructors with the aim of providing a once in a lifetime chance to find purpose through physically and mentally challenging activities. A passionate social justice advocate, Will is a former Tactical Operator with the Special Operations Group and is now the Executive Director of a charitable organisation working with at-risk youth. He has a creative way to engage every attendee and works with event organisers to tailor a unique experience for conference or incentive groups.
WALK ON KUNANYI
Guide and owner of Walk on kunanyi Andy Crawford has lived on the foothills of kunanyi/Mt Wellington all his life and is honoured to share the stories of this special place that serves as the iconic back drop of nipaluna/Hobart. Tailoring experiences to the needs of each group and offering epic views across a range of walks that celebrate the natural wonders of the mountain located just 20 minutes from the heart of Hobart's CBD, Andy and his local guides believe that by slowing down and walking, connection to place is deepened. Going beyond just minimising their impacts, Walk on kunanyi's profit has purpose, with the business being carbon positive offsetting 125% of emissions through the Tasmanian Ark Greening Australia Project. 5% of all booking sales are also donated to The Tasmanian Land Conservancy for the preservation of Tassie's wild places for future generations.