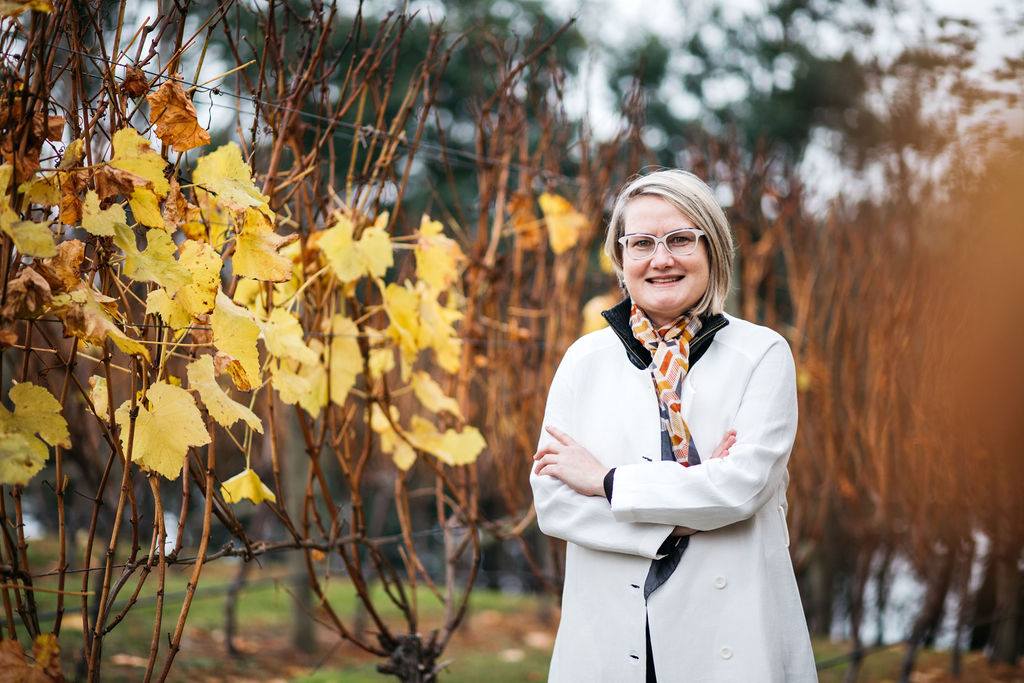 Tassie's Wine Queen
Quality over quantity is a mantra Tasmania has honed over history and it's paying dividends for our boutique wine industry. It's also a rich reward for those lucky enough to visit one of the 30 cellar doors within the Tamar Valley Wine Trail, which stretches from Relbia, just south of Launceston, through to the iconic Pipers River Region and both sides of the East and West Tamar.
Wine Tasmania Chief Executive Sheralee Davies – or the "Wine Queen" as her business email signature points out – says the region is a diverse treasure trove of classy cool climate wines crafted by colourful characters.
"The beauty of visiting the Tamar Valley is about the exploration," Sheralee says.
"There are so many small, family-owned producers who will be at the cellar door to personally greet and chat with customers. More often than not you will be talking with the people who grow the grapes and make the wine, so there is a real feeling of connectedness that is authentic and quite rare.
"They will happily explain why the wines taste the way they do and how their patch of dirt is special and how that comes through in the wine. Some of the producers offer premium wine flights with some of their older wines that are not available anywhere else."
The North-East corner of the wine trail is particularly renowned for its sparkling wine, with pinot noir a focus for virtually every single producer. Pinot Gris is growing in popularity while a range of red and white varietal blends are also winning accolades.
Labels such as Jansz, Josef Chromy, Pipers Brook, Clover Hill, Bay of Fires and House of Arras are well recognised, but if you dig a little deeper, there are many smaller and newer boutique offerings creating first-class drops that are hard to find anywhere but their cellar door.
It's the small scale that sets us apart – Tasmania produces just one million dozen bottles of wine annually, with the Tamar Valley producing roughly half a million of those bottles.
For context, Tasmania produces less than one per cent of Australia's wine but generates more than 4% of its total value.
"A good proportion of our wine is only available in Tasmania, including at cellar doors which adds to the appeal of visiting. They are made in such small volumes that the only way to try them is to come and visit," she says.
"Forty per cent of Tasmanian wine does not leave the island unless it is carried out by tourists. Another 55 per cent is found selectively interstate, predominantly at restaurants and 5 per cent goes to international markets.  There is so much interest internationally, but we cannot keep up with the demand."
Our location at the bottom of the world is what makes the region so special.
"It comes down to the cooler, maritime climate with water all around our vineyards, including the Tamar River, Pipers River and, not least, Bass Strait . This has the result of moderating the temperature and ensuring our delicate grapes can ripen slowly and steadily, developing intense favours and aromas and a structure that's refreshing and zesty.
"The wines jump out of the glass with beautiful flavours and mouthwatering structures that are intense but not overpowering so that it lifts and is the perfect accompaniment to your food."
Sheralee says the trail is a perfect option for inclusion in conference schedules and for corporate groups, because of the variety of cellar doors within close proximity to one another and the city.
There is such a diversity of adventures that people can have, including dining – from formal restaurants to casual platters of local produce or create-your-own picnic experiences.
"Why wouldn't you?" she laughs.
"You can go to somewhere like Josef Chromy for experiences including wine tasting, a full restaurant service, events or weddings and activities like fly fishing or cycling through the vineyard. The other end of the spectrum is one of the tiniest vineyards, Apogee, at Lebrina, where you make an appointment for an in-depth experience and discussion about sparkling wine with the winemaker, Dr Andrew Pirie."
Warm and welcoming hosts are to be found at each location; she promises.
"What I love is that while people can get very serious about wine if they wish, you won't find any pretention. You will find openness and welcome."
For more details and tips about the Tamar Valley Wine Trail, you can visit winetasmania.com.au or www.tamarvalleywineroute.com.au.