2352 Coles Bay Road, Coles Bay, Tas, 7215
Stay
Saffire Freycinet is Australia's premier luxury lodge, a gem of Coles Bay providing an authentic and immersive connection to the magnificent Freycinet National Park and Wineglass Bay in Tasmania. Distinct in its design, exclusive in its features and set apart by its approach to individually tailored experiences and service, Saffire features 20 private suites, a luxury day spa, and unforgettable culinary offering. Previously voted the World's Best Boutique Hotel and World's Best Luxury Hotel, Saffire Freycinet has also been named as Best Luxury Hotel in Australia by Trip Advisor for the past six years. To experience Saffire Freycinet is to detach from ordinary life and become truly immersed in every moment.
All of the suites are luxuriously appointed, featuring the best in design and furnishings and capturing the unique nature of the surrounding coastline. All suites are designed for the utmost privacy while taking in the magnificent views of The Hazards, crystal-clear blue waters and white sandy beaches.
The suites are designed to relax and rejuvenate, indulge in reading and lazing the days away, and to find connection with the environment to heal and restore balance.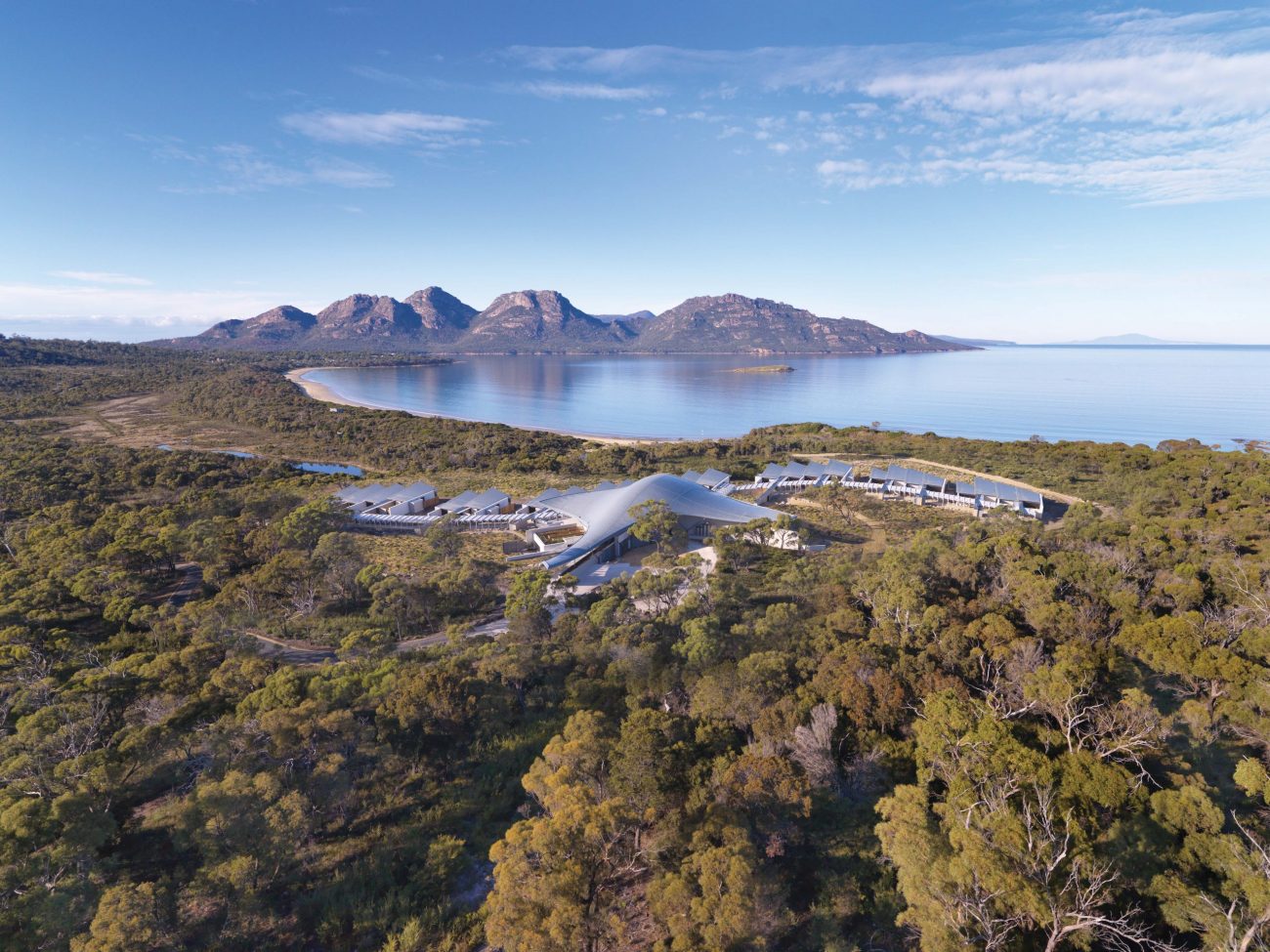 Conference
At Saffire Freycinet, your memorable Tasmanian events will be tailored and delivered. Expectations are surpassed. Here, even a corporate conference can feel like a prized incentive. Saffire Freycinet provides a stunning setting for product launches.
This luxury lodge provides individually tailored programs that strike the right balance between spectacular destination, glorious environment and world-class food and wine.
Equipped with the latest technology and luxurious classical furnishings, the boardroom is a wonderful venue for small conferences, meetings, workshops and events up to 24 people.
With floor-to-ceiling windows, there are captivating views of The Hazards mountain range, and direct access to a designated outdoor terrace.
Eat & Drink
Saffire Freycinet is situated in an area of East Coast Tasmania that has an enviable reputation for premium aquaculture and agriculture. The very best of fine food and wine is produced right on Saffire's doorstep. Freycinet's Mediterranean-like climate contributes to the production of stunning cool-climate boutique wines that have won international acclaim.
Local fishing villages supply a daily parade of crayfish, scallops and deep-sea fish lifted dripping off the local boats, salty-sweet and fresh from the water.
Plump oysters and mussels are farmed in the pristine waters of Great Oyster Bay. The best of Tasmania's succulent grass-fed beef and lamb, full-flavoured game meats, fresh herbs and spices and seasonal fruit and vegetables are chosen daily by the chefs to craft cuisine that accentuates the best of premium local produce.
Do
Saffire Freycinet's complimentary range of activities gives you options for every mood and every moment. Lasting from one hour to three hours, these activities are your opportunity to engage and connect with Freycinet's stunning natural wonders and attractions. Adventure, romance, rejuvenation or exploration, our complimentary experiences and activities add greater depth and dimension to your stay in Tasmania.