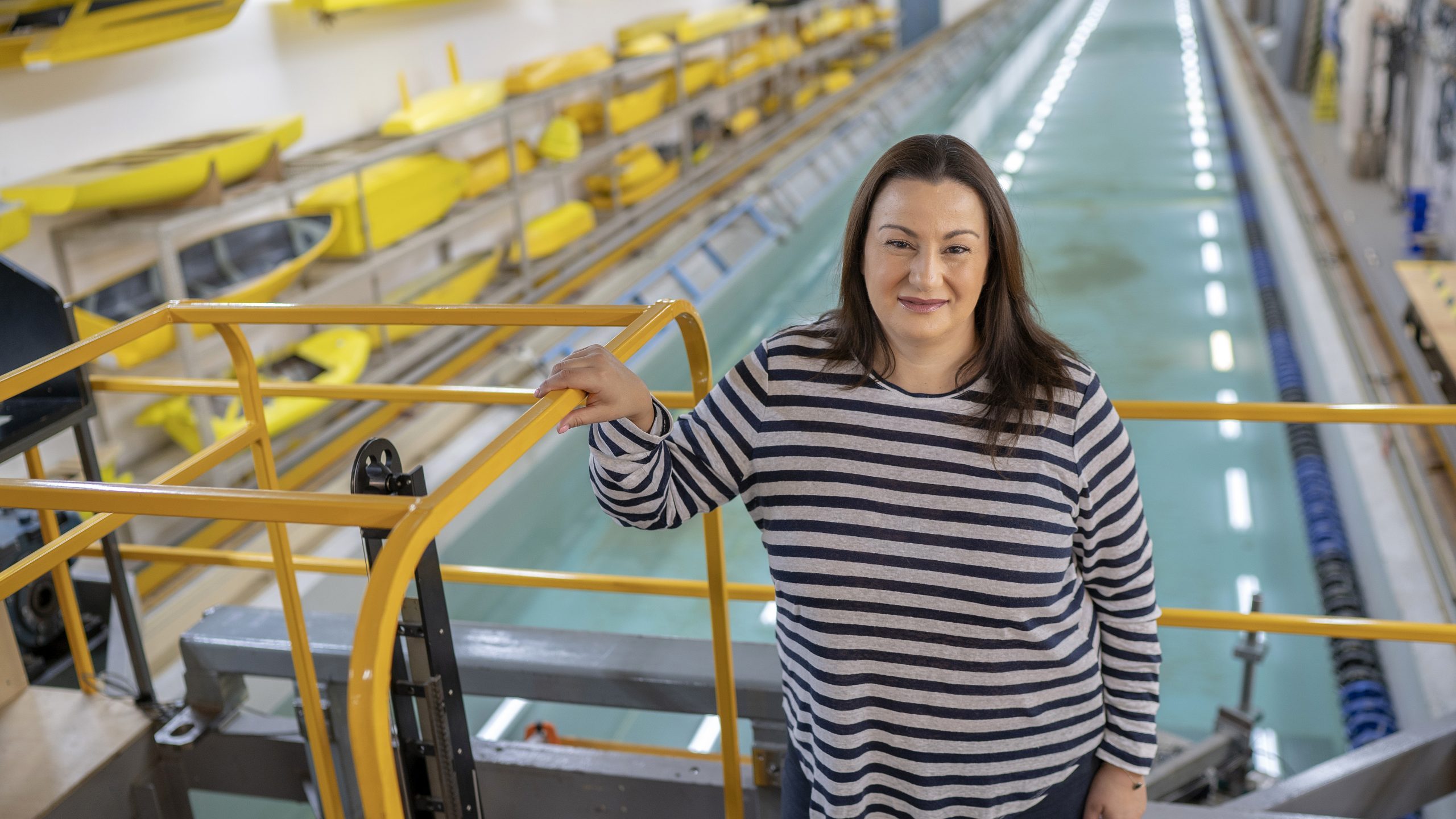 CHAT WITH A LOCAL – Irene Penesis
A placement teaching maritime engineering students mathematics at the Australian Maritime College in Northern Tasmania 20 years ago has led to a rewarding career for Professor Irene Penesis, Research Director for the Blue Economy CRC-Co Ltd. Until 2020 she led a multi-disciplinary research team at the Australian Maritime College (specialist institute of the University of Tasmania) solving challenging industry problems in the field of marine renewable energy and is now the driving force behind the Blue Economy CRC's vision for sustainable offshore aquaculture and renewable energy production that will transform the future of Australia's traditional blue economy industries.
I've chosen to live and work in Tasmania because… 
It combines everything I am passionate about. I love stunning beaches and being in the ocean (it's the Greek Mediterranean in me). I took a leap of faith and moved to Tasmania 20 years ago to teach mathematics at the Australian Maritime College and that evolved to a rewarding career inspiring and creating the next generation of maritime engineers that are solving challenging problems for the maritime, defence, marine, renewable energy and offshore sectors, all over the world.  
I was blown away by the passionate people I worked with, the state, and its natural environment. Tasmania has an international reputation in sustainability with its hydro and wind resources and marine biodiversity, but also has the most unique opportunity to utilise the renewable energy resources, such as the waves, tides and offshore wind, at our doorstep. That's why I have spent the last 15 years focusing on researching solutions that will help our remote island communities and our marine and maritime industries and sectors to decarbonise. 
I am so thankful to have started this journey at the Australian Maritime College and continue it with the Blue Economy Cooperative Research Centre here in Tasmania. 
It's easy to take a different look at the world from Tasmania…
because our state-of-the-art facilities, world-class research and industry collaborations are helping to address fundamental questions and issues relevant to not only Tasmanian's, but across the world, in areas of global significance such as food security, energy security, and climate change. 
The most rewarding part of my role is…
Being at the forefront of realising the unique opportunity that Tasmania has to become a world leader in sustainable aquaculture and offshore renewable energy production, and working with leaders in government, industry and researchers to realise the difference our innovative and leading research will make to local businesses, the community and the economy.  
This is the chance to be a part of an unprecedented opportunity in Australia to build on our natural advantages for a future blue economy, and also help other countries achieve this vision as well.  
An unmissable experience I recommend when visiting our island state is…
Hands down taking a walk around Freycinet National Park on Tasmania's East Coast with iconic views over Wineglass Bay. In the north, you also can't go past the Tamar Valley wine region, for postcard views and Australia's best sparkling wines. 
One thing that might surprise people to learn about Tasmania is…
It is a small State that offers so much – apart from its beautiful surroundings, top quality food and wine, the arts, culture and relaxed lifestyle, Tasmania is committed to sustainability and powered by 100% renewables due to its exceptional hydro and wind resources. This makes me proud to share Tasmania's story on a global stage.
You haven't experienced Tasmania until you have…
Taken a bushwalk in the middle of winter around Cradle Mountain. 
My favourite Tasmanian:
Coffee spot

– Alps and Amici in East Launceston: co-located with a deli with all the best local and seasonal produce

.

 
Cheeky tipple

– Sloe gin sour or a glass of Arras Sparkling Rose at the Mudbar Restaurant in Launceston – great atmosphere and exceptional staff make the experience excellent. 

 
Tasty treat –

The seafood in Tasmania is outstanding! It beats the seafood you would eat anywhere else in the world! 

 
Secret Location –

Fortescue Bay on the Tasman Peninsula. Google it if you haven't been. It looks just like the pictures. Stunning soft white sand beaches and some of the best walks in Tassie.
Place to enjoy the great outdoors

– The Cataract Gorge in Launceston, but you could literally drop a pin anywhere in Tasmania and enjoy it!