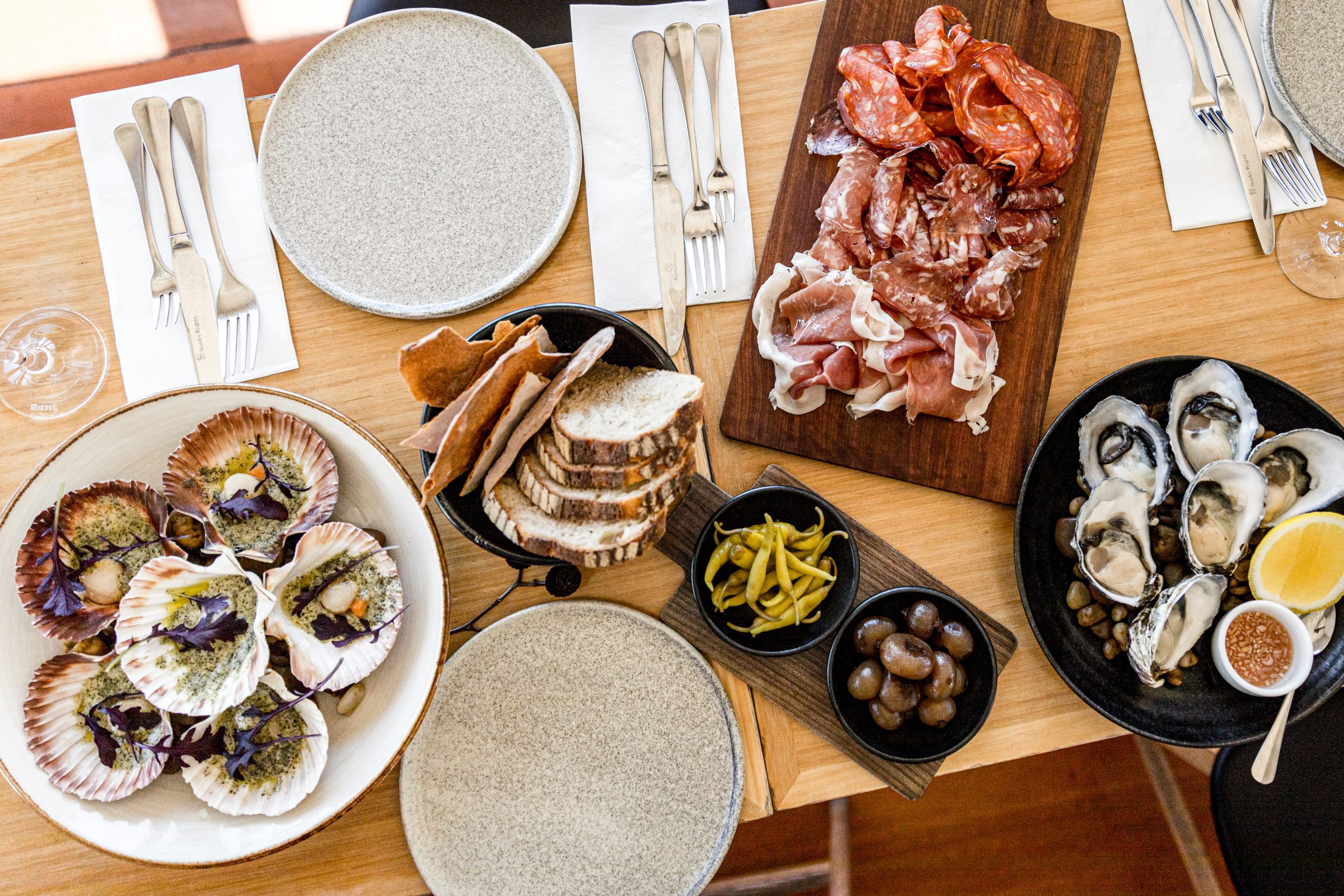 Bianca Welsh – passionate about hospitality
Bianca Welsh didn't grow up dreaming about haute cuisine or luxe architecturally-designed accommodation. The juxtaposition of her childhood in Launceston's middle class northern suburbs and her reality now as the co-owner of two internationally-respected restaurants and a hotel, can not be understated.
"I often joke about growing up in a meat and three veg family. My parents drank boxy (casked wine) and we'd eat very simple food like ham steak and pineapple and fish and chips," Bianca laughs.
But despite the glamor and gastronomical delights she now oversees at Stillwater, Black Cow and Stillwater Seven, she remains true to her humble upbringing, where the value of hard work was instilled.
Bianca was adopted as a five-month-old baby from South Korea – her birth mother was forced to give her up or risk "being shamed" for having three daughters in a culture that preferenced boys over girls.
She believes she is extremely lucky to have arrived in Tasmania and given a public education at Mayfield Primary School, Brooks High School and Newstead College – an ethos she lives with her role helping the Beacon Foundation to "dispel the myth that you need to be from a private school to be successful in business".
Unlike many restaurateurs, Bianca's first foray into the world of hospitality didn't spark her passion for the profession.
"Gosh no!! I used to wobble (advertising) boards for Domino's Pizza at Mowbray. We'd have things thrown at us and drunks from the pub across the road would come and abuse us  – it was awful," she recalls.
It was working at Invermay McDonalds during her college education that her leadership potential was honed.
"I loved that experience. I learnt systems, policy, procedure and how to manage people. I had been a shy child and I didn't see myself as a leader but my manager must have seen something in me that I didn't because I kept getting promoted and was part-time store manager when I was 16."
Bianca then embarked upon a Diploma of Hospitality Management at Drysdale and fell in love with the the food and beverage elements of the course.
"I loved the atmosphere and the fast-paced environment," she says
It was when she began working at the Sebel Hotel's restaurant, then known as the Cornwall, that she could see her future in fine dining. The restaurant manager at the time, Aaron, who had previously worked at Launceston institution Fee and Me, encouraged her education in excellence and provenance.
"He taught me about good local wines and I was also working alongside chefs when Tasmania was just starting to find it's feet with using local produce and it just made sense," she reflects
"When I started at Stillwater and met Craig Will, who is now our business partner and executive chef, I really started to understand how important local produce is."
Fast forward 15 years and Bianca is regarded as a poster girl of the Tasmanian hospitality and tourism industry, along with her husband James Welsh.
"James also grew up with simple food and his parents drank boxy and beer and now he is one of the finest sommeliers in the country," Bianca says.
"We are very passionate about our amazing local produce and understanding the story of the producers. We are so blessed with the variety we have here and that sets us apart from other paces in the world.
"I am always astounded by the people who come to Stillwater from all over the globe. Some are the rich and the famous and others are those who have just saved all their money to come – so you realise we really have got something special here."
She and James became part-owners in Stillwater in 2010, having developed Black Cow Bistro in 2008.
In 2014 they took ownership of the Providore business above Stillwater in the landmark 1830s flour mill on the banks of the Tamar River, which they transformed in 2019 into luxury accommodation offering Stillwater Seven – 7 boutique suites featuring the very best Tasmanian architecture and design, furniture, food and beverages.
A major component of Bianca's role is HR for Stillwater, ensuring the recruitment and training of front of house staff, with a key focus on their mental health and wellbeing, so that they can provide the best possible service to customers – whether it be a intimate dinner for two or a world-class event for 65 people.
It's a cause close to her heart, with James combatting his own mental health struggles.
The desire to do more than tick a box for WH&S compliance also weighed heavily on her heart, having had to deal with young staff members struggling with the gamut of issues including eating disorders, Bipolar, anxiety and post-traumatic stress disorder.
"Instead of telling workers to stay home and rest I wanted to learn ways to assist them continue to contribute to the team and society and feel valued and find a way to nurture them so that work can be part of their therapy."
She completed a Bachelor of Behavioural Science degree at the University of Tasmania to ensure she could adequately support her team and has just launched her business, called From Experience, to assist other managers be proactive in helping staff cope with their struggles and break down stigma.
She is also a board member of the Launceston Chamber of Commerce and Tourism Industry Council Tasmania, and on the State Government's Advisory Committee for Training and Education, where she hopes to help change the perception of hospitality as a profession.
"I am a 'yes' person and I throw myself into things and sometimes I have to figure it out later," she admits.
"I love what I do and when you are a people person it doesn't feel like work. I am not exhausted at the end of the day, I am invigorated."