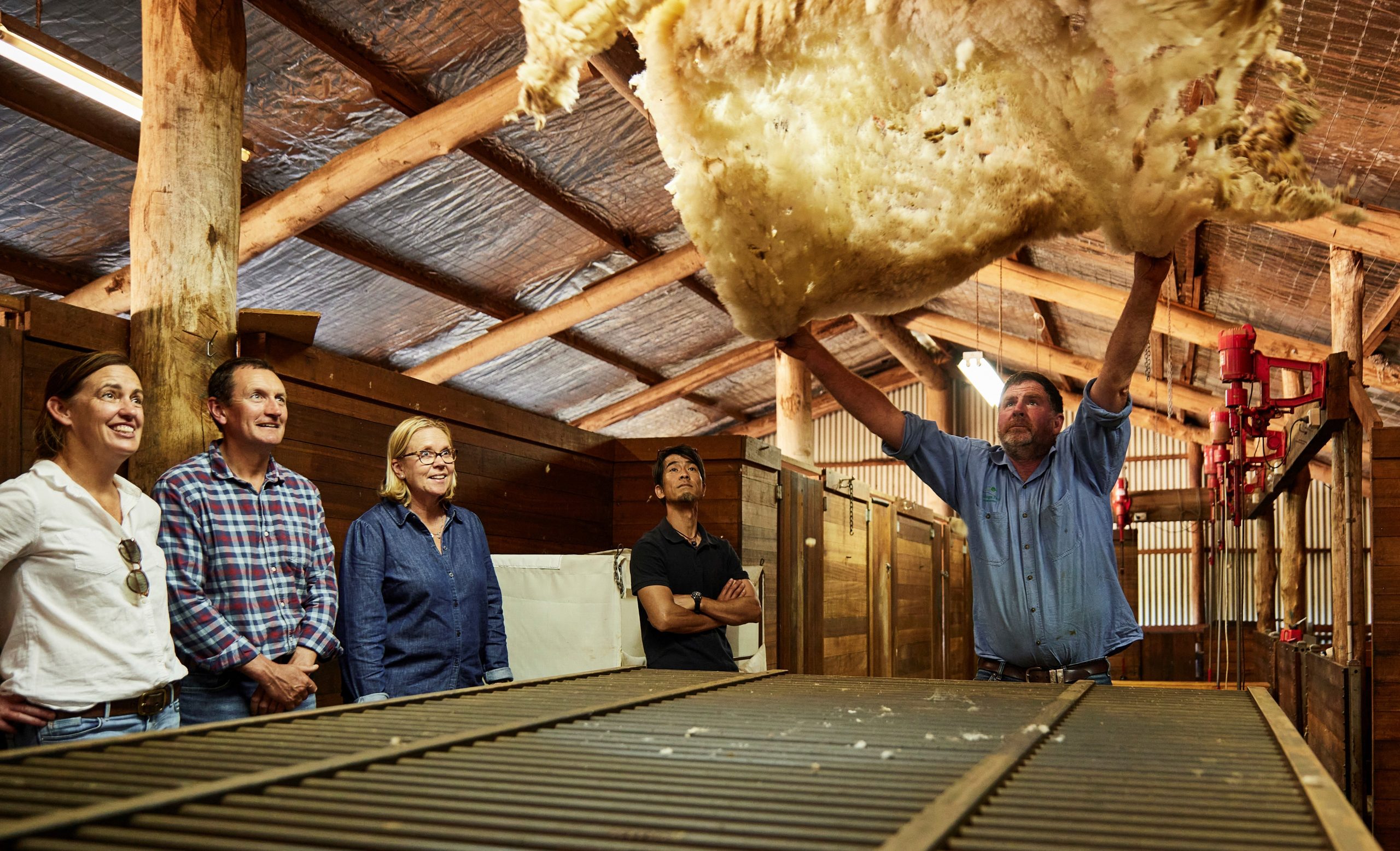 ADVENTURE with us
To speak of the Tasmanian spirit is to speak of passionate people who've persisted, pushed through, and found ways to thrive.  Of innovators, entrepreneurs, and disrupters who have all backed themselves in and pursued their own goals no matter what stood in their way.
Tim and Jane Parsons - Curringa Farm
Wherever you go on this beautiful island, you'll find a culture of conviction. As one of the state's earliest adopters of agritourism, Tim and Jane Parsons of Curringa Farm completely embody this quintessentially Tasmanian determination.   
Located at Hamilton, around one hour from Hobart, Curringa Farm is a seventh-generation property sitting on 750 acres, offering guests a taste of life on a real working sheep farm through farm tours, sheep shearing and working farm dog demonstrations, fluffy chickens, deluxe accommodation and the best scones, jam and cream you will ever devour!  
Curringa's farm stay commenced in 1984 with 'Over the Back', a cottage built on the farm by Tim's parents.  Over the Back was very successfully run by Tim's mother at a time when he says, the local farmer's wives would often derive an additional income stream by offering accommodation, with little other options of employment for the women in the farming partnership within the region.    
Since purchasing the property from Tim's parents in 2002, Tim and Jane have expanded upon this concept considerably, evolving Curringa into a national award-winning farm stay, set in natural bushland overlooking picturesque Lake Meadowbank, with nine farm cottages now on site.  
With around 3000 sheep run on the property for meat and wool production, the Parsons also grow opium poppies for a pharmaceutical company and seed crops of onions. Tim is a passionate host, and a farm tour with him provides guests with an authentic insight into agricultural life on Tasmanian land.  
Time spent at Curringa also includes a guided forest walk and overview of the many sustainable regenerative land practices being implemented across the property. 13% of Curringa is under conservation with shelter belts and picturesque forest areas home to native animals, plant species and birdlife, with the Parsons' working toward increasing that figure to 20%, in commitment to preserving the property for generations to come.  
There is a café on site, and capacity to host 200 guests, and seat 100 in one sitting for conferences or incentives. This a country venue with heart, and Tim and Jane are happy to work with guests to develop bespoke packages and tours.  
Tim and Jane are early adopters in the true sense of the term, with Tim saying the evolution of Curringa has been a no-brainer for the pair. "Our approach to diversifying the farm has allowed us to sustainably manage our property whilst maximising our natural resources across a business spread of agriculture, tourism and hospitality, and of course, we love sharing this place with our guests." 
Bernadette Woods - BW Events, Glen Albyn Estate & Mustique Hobart
For highly accomplished chef and entrepreneur Bernadette Woods of BW Events and Glen Albyn Estate, the journey to Tasmania was a long one from the rugged Northern Headlands of County Donengal, in Ireland, via the sun-soaked beaches of Noosa.  
She arrived in Tasmania to take up the role of General Manager at Cradle Mountain Village in the late 1980s, and the island state has been home ever since. The youngest GM every appointed by P&O Australia, when she arrived Cradle Mountain Village consisted of 10 cabins and by the time she left there were 75.  
A diverse career in Tasmania followed, until with husband Mark Escott, Bernadette found herself facing one of her most ambitious challenges yet, transforming a 6.5 hectare property set on water-bound bushland at Taroona, just 15 minutes south of Hobart's CBD, into a private event venue with capacity for up to 700 people.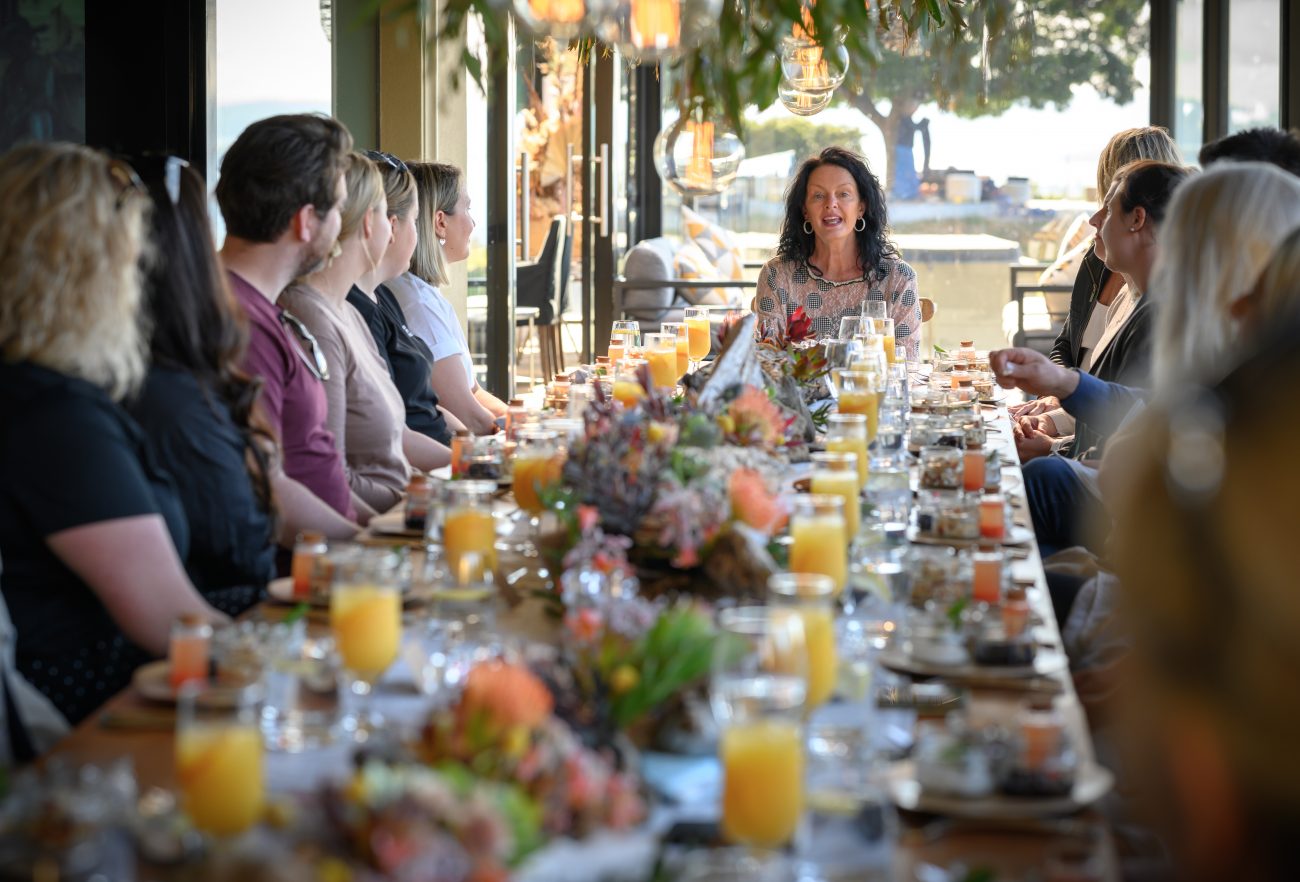 Boasting one of Tasmania's most magnificent outlooks from cliff tops above the River Derwent, under Bernadette's expert direction and discerning eye, Glen Albyn Estate has been developed into a unique private venue, with exceptional facilities spread across the Estate's sprawling grounds offering a number of options for corporate events.  
A self-confessed ideas junkie with a passion for food, parties and creative styling, island life seems to agree with Bernadette who is never far from the water, as the mastermind behind waterfront dining venues Seagrass Long Point and Waterline Brooke Street Pier, adding to her business portfolio along with catering and theming company BW Events.  
She and Mark also recently acquired Mustique Hobart, a superbly appointed 110ft luxury boat offering highly personalised and exclusive service for private functions.  Her talents lie across all elements of event execution, and she is a popular choice with event organisers seeking to host a uniquely Tasmanian experience that will leave a lasting impression.  
Robert Pennicott - Pennicott Wilderness Journeys
Almost requiring no introduction, Robert Pennicott started his family business Pennicott Wilderness Journeys in 1999 with a single journey taking in Bruny Island.  He now operates seven tours in southern Tasmania, highlighting the spectacular and unique wilderness and wildlife of the areas. 
The Pennicott Wilderness Journeys' yellow boats are iconic to the island state and over a 21 year history, the business has become a highly acclaimed environmental tourism operator, winning 29 Tasmanian and 14 Australian Tourism Awards.   
The business invests heavily back into the environment in which it operates, with island restoration projects undertaken on Tasman Island and Big Green Island, wildlife protection initiatives, regular marine debris clean-ups and is 100% carbon offset through Greening Australia.  
Of his success Robert says he is privileged to operate a business that celebrates all the things he loves about Tasmania and being Tasmanian.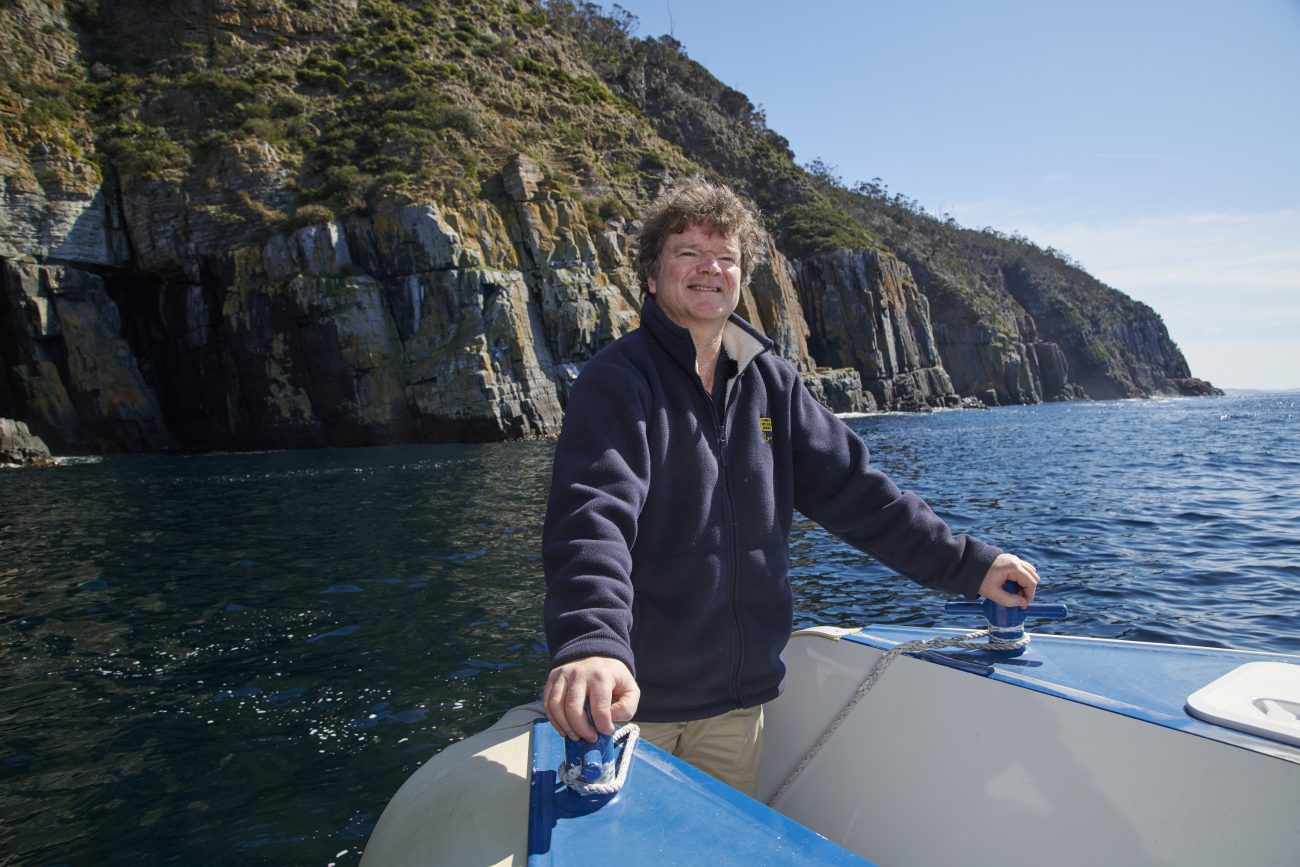 "With a stunning natural environment, I work with a team of locals who are passionate about sharing their home and community without pretence. 
"This is what has enabled me to build a successful and sustainable business, together with the whole Tasmanian community of likeminded friends who work as a team to grow the Tasmanian visitor economy.  
We are an interconnected village with a strong sense of place which we are happy to share with others." 
Whilst some may say that Tasmanians have an unfair advantage in our physical elements of great produce, breathtaking landscapes and bracing weather, it is the intangible that really makes our island state.   
In Tasmania you don't need to go very far to find examples like Tim and Jane, Bernadette and Mark and the Pennicott Family. A connected and collaborative community built on our hardworking attitudes, off-centre way of thinking, and our refusal to let life be regular is what really defines Tasmania's cultural identity, making it a place with an infectious ability to expand the perspectives of all who travel here. 
Top Image Credit – Tourism Australia