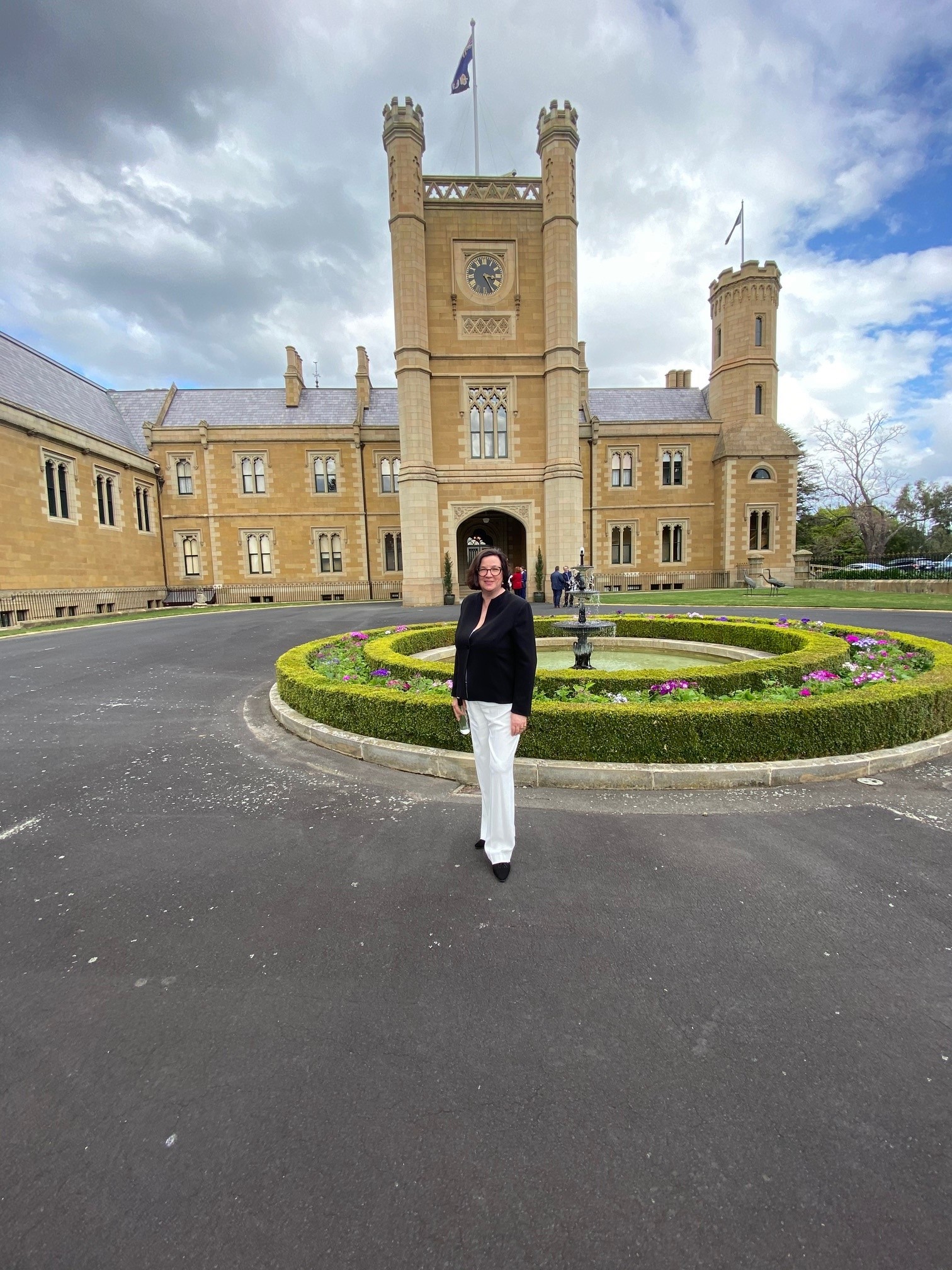 World-leading infrastructure for bubbling industry
Given the effervescence that emanates from Kim Seagram, it's no wonder her latest ventures are bubbling away with vigour. From her own distilling business to a global-first agri-food project she is pioneering for the state's north, the queen of Tasmanian hospitality is as busy as ever.
In fact, since Kim arrived from Canada in 1992 – having met her Tasmanian husband, Rod Ascui, on the ski fields of her home country – she has barely stopped championing everything this island state has to offer.
"When I arrived in Tasmania I made it my mantra to make sure everyone knows how fabulous it is," she reflects.
"I love that Tasmania is unique in the world – a blend of old-world hospitality with new-world innovation."
Kim's first experience in Tasmania's tourism and hospitality scene came with Rod's successful little cafe Ripples, at the entrance to Launceston's Cataract Gorge on the banks of the Tamar River, and the establishment of Lalla Gully Vineyard near Lilydale.
With their grapes being used by Clover Hill for their award-wining sparkling variety, the pair sold the vineyard to the wine company and in 2000 they transformed Ripples into Stillwater with co-owners Don and Mel Cameron.
The development instantly turned the tide on Tasmania's dining reputation.
"We knew we already had world class wine and some of the best produce in the world we just needed to create a showcase so in October 2000 Stillwater was born as the first destination dining experience to put 'Tasmania' on the plate."
After two decades they sold their share of the Launceston icon.
During her career she has been a familiar face on a number of boards and it was her time on the Brand Tasmania Council that has shaped her the most.
It enhanced her knowledge of different aspects of Tasmania's economy and agri-business potential – and now she is somewhat of an aficionado, having helped establish the nationally award-winning Harvest Launceston Farmers' Market that connects thousands of people with passionate producers and agricultural artisans each week.
She also established The Abel Gin Company with business partner and bubbles expert Natalie Fryar in 2017, with the products now distributed at some of the biggest liquor stores across Australia.
Her latest venture – FermenTasmania – could just be her biggest legacy. As chair, she is guiding the international push for a world-leading fermentation incubator, an 1800sq.m facility at Legana costing $16 million to build and fit-out.
Just as fermenting means to transform and enhance (micro-organisms turning sugars into food acids and alcohol) – the facility would be a game-changer for Northern Tasmania.
"The agribusiness sector is not good at extracting the maximum value from core products," she explains.
"Our biggest exports are potatoes, onions and cherries but couldn't it be potato vodka, pickled onions or kirsch? Once that cabbage that may not pass the field test becomes kimchi or sauerkraut you don't know it was an ugly vegetable."
The project will provide technical and business guidance to "scale-up" micro businesses across the state as well as provide formal training in areas such as beer brewing and cider production, cheesemaking, sourdough baking, pickle production and biofuels.
"We believe it will be a post-COVID incubator infrastructure program for at least the next 50 years and I think the whole eco-system around this venture sets us up for a beautiful future."
While the concept has literally been fizzing away, so too has a push for Launceston to be a UNESCO City of Gastronomy – another concept Kim is championing.
"When doing the international scoping work for FermenTasmania my colleague Tom Lewis talked to the Artisan Food Centre crew in Ostersund, Sweden. They were so excited about all they heard about Northern Tasmania they felt we needed to put in a bid to become part of this global network," explains Kim.
"A group of 24 involved in the state's food system have joined forces to drive the bid, with the submission due in June – so fingers and toes crossed!"
Part of the bid process for the City of Gastronomy title has been the establishment of AgriCULTURED, a pilot event planned for August, encouraging people to visit Northern Tasmania during the traditionally quiet period of winter.
"It will be a really authentic experience – not your regular food festival," Kim promises.
"This is all about making our food system better and empowering our growers, makers and producers to share their stories and skills and help others make and grow the sector and will even impact the agribusiness and food policy space in the state. It will quickly become a must-do for every person interested in growing their food knowledge."
The symbiotic nature of Kim's current passions has not occurred by accident – she is a big believer in building communities through collaboration rather than competition.
With her name already emblazoned on the Tasmanian Honour Roll for Women, and with an AM after her name, her future ambitions are truly public rather than personal.
"I have always thought that it's my role to foster the bigger picture," she says.
"I fell in love with this place from the first day I set foot here almost 30 years ago, the ancient wilderness, pristine oceans and historic towns are beautiful beyond reason but the people here are something else.
"Creating a future by looking at your past and doing what you do well is a recipe for success in my books."