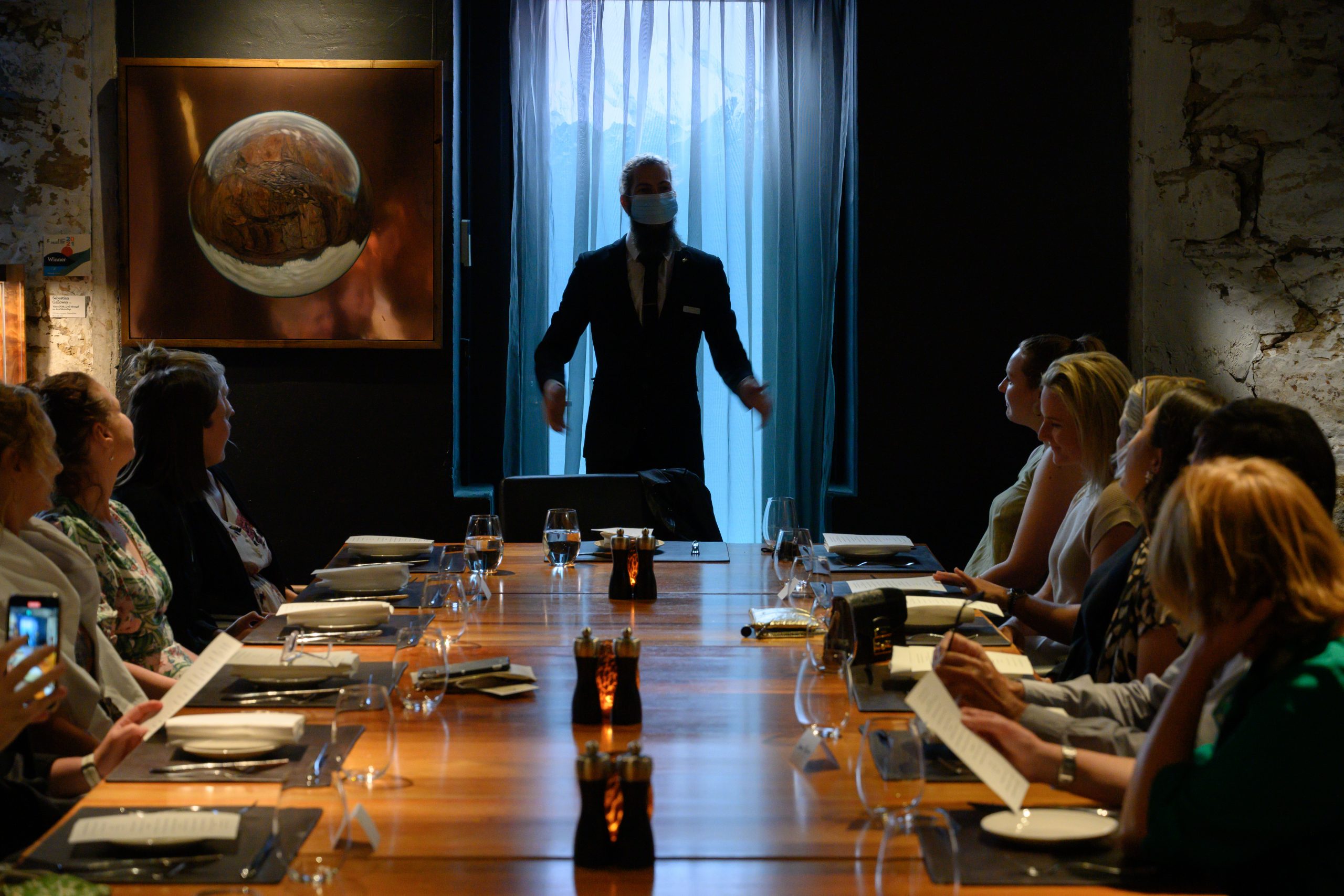 EAT with us
As they painstakingly built the now iconic sandstone IXL warehouses it seems unlikely that even in their wildest dreams, the convicts of Van Diemen's Land would have imagined that the walls going up before them would eventually house some of Australia's most important colonial artworks or showcase the island's finest food and wine. Yet this quintessentially Tasmanian juxtaposition is the story of Landscape Restaurant & Grill, a Federal Group Tourism venue providing unforgettable dining experiences in the heart of Hobart's Hunter Street waterfront precinct.
Inspired by the island, Landscape is a celebration of Tasmanian history, heritage, culture, produce and people. At Landscape, the artist has morphed into muse, with six original John Glover paintings providing the inspiration for Landscape's concept, architecture and design. One of Australia's most celebrated landscape painters dubbed "the father of Australian landscape painting", Glover's works are renowned for creating naturalistic and atmospheric depictions of Australia's landscape, Aboriginal culture and early settler life. John Glover's paintings are hung in both Australia and around the world, found on the hallowed walls of institutions as far afield as The Victoria and Albert Museum in London and the Lourve, making it a rare treat to sit and dine amongst these important works on the island that inspired the artist around 200 years ago.
With a love for the exquisite produce of Tasmania, food miles are minimal at Landscape. The goal of the culinary team is to constantly push the benchmark for premium dining in Tasmania, by taking the very best the island has to offer and simply enhancing the flavours of quality home grown produce. At the heart of this ethos lies the restaurant's wood fired Asado Grill, with a section of the menu dedicated to steak cooked over the coals, serving the finest meat on island. This includes renown Cape Grim Beef raised in the far North West corner of Tasmania, a pristine area known for abundant rainfall and the cleanest air in the world. Cape Grim farmers are committed to sustainable and ethical practices, creating nurtured 100% grass fed, free range, hormone and GMO free beef.
Waygu beef is also sourced from Robbins Island, home of the dying art of cattle droving in Tasmania, with an annual saltwater cattle muster involving around 25 stock workers on horseback transporting 750 cows and calves across three saltwater channels onto the island. Known for its cool climate, salt air and pristine environment, Robbins Island is ideal for naturally raising some of the most tender and best tasting beef in the world.
These fine meats are cooked to perfection over a blend of Tasmanian hard wood and a selection of sherry, bourbon and port casks from the Tasmanian Cask Company. The Tasmanian Cask Company is a cooperage that repairs used wine and fortified wine barrels. Landscape uses the offcuts that might otherwise go to waste, with the flavour from these old barrels gently infused into the smoke when cooking to give a unique flavour to the dishes. Chef changes the barrels on a regular basis and Landscape waiters inform diners of the kind of barrel that went into flavouring their steak on any given day.
Beyond the grill, a menu of reimagined classics featuring premium Tasmanian seafood including freshly shucked oysters and Southern Rock Lobster and produce from this ingredient focussed kitchen's little black book of the island's most dedicated and ethical micro producers and farmers, provides an exceptional dining experience for all tastes and dietary requirements. Complemented by a wine list curated by Landscape's in house Sommelier, including old world, new world and emerging niche wines with a strong focus on Tasmanian product, Landscape also has an extensive collection of spirits, boutique beer, whiskey, cognac and top shelf options.
At Landscape, dining isn't just about the food, which is why the dedicated team behind this venue have worked to create a restaurant that evokes every sense. From the art collection to musical collaborations with the Tasmanian Symphony Orchestra and bespoke Tasmanian design elements, including tabletops made from Hydrowood speciality timbers salvaged from the depths of Lake Pieman on Tasmania's west coast. In testament of Federal Group Tourism's ongoing philanthropic commitment to Tasmania's visual and performing arts, Landscape's private dining room is adorned with a selection of Glover Prize winning artworks, acquired by the Group as principal partner of Australia's richest annual prize for landscape painting in Australia. This intimate space allows larger groups to come together and enjoy private personalised dining.
A restaurant of symbolism and stories, every element of Landscape has a distinctly Tasmanian narrative implemented to delight, surprise and share. Despite now being completely reimagined, the exterior of Hobart's oldest warehouses retain the Henry Jones distinctive IXL brand mark, thought to represent the jam entrepreneur's personal motto of "I excel in everything I do". A timeless endeavour that continues to be honoured by the current custodians of this historical building at Landscape Restaurant and Grill.